GROOM scientists investigated and documented the advantages of using gliders for ocean prediction and optimal sampling in the Ocean Observing Systems as well as the policy and management of data collected by gliders. Authorities were approached regarding safety and legal aspects of glider operations, and possible financial models were reviewed. In addition, the team carried out studies on performing synergistic experiments with other platforms and the testing of new sensors. 
Project partners studied the innovation aspect of operating gliders. They analyzed a variety of novel sensors available in the market and under development, as well as their readiness for gliders. These sensors paved the way for broad perspectives in the design of experiments with gliders for physical, chemical, and biological ocean research. 
Data flow and work flow protocols and formats were developed. GROOM also defined and implemented a dedicated data management system for gliders in Europe that has become the basis of the worldwide data management system which is maintained today by OceanOps.
Trial glider deployments were undertaken to test and assess the designed fleet operation techniques. Synergies with other ocean observing platforms were also explored, including testing sensor deployment. The team analysed existing European glider infrastructure and defined a future European infrastructure for gliders based on the current state of play. 
GROOM drew up a roadmap to establish and implement a European RI. The RI will be most useful for academic oceanographic research and operational oceanography systems and will provide crucial information on marine activities to the commercial sector, governmental organizations, and other users.  sensing, surveying and monitoring capabilities to support long-term in-situ exploration and protection services of the coastal and deep ocean.
The final report of GROOM FP7 is available here
The "European Gliding Observatories" aimed at providing cost-effective methods for the discovery and monitoring of the ocean at global, regional, and coastal scales that would benefit both basic oceanographic research and operational applications for marine activities. 
This was done through the development of 2 main objectives :
1. Operating fleets of autonomous underwater gliders
Underwater gliders are intelligent and affordable platforms useful for long term multi parameter marine observations. They play an important role for present and planned marine observation networks. Deployed in swarms, they provide data in near real-time with high spatial and temporal resolution that efficiently fill the gaps left by existing in-situ observation networks based on other marine platforms such as the profilers in the ARGO network. This is beneficial for both academic oceanographic research and especially operational oceanography systems on which a large number of marine activities now rely. 
2. Coordination of research using gliders and conception of future research
However, the deployment of swarms of gliders requires highly skilled operators and a sophisticated level of cooperation. The objective of the "European Gliding Observatories" Action was to build cooperation at the technological, scientific and organizational levels in order to develop a European capacity for sustained observations of the oceans with gliders.
The main objective of the BRIDGES (BRinging together Industry for the Development of Glider Environment) Project was to perform research on cost-effective, robust, re-locatable, and easily-deployed autonomous platforms with multiple sensing, surveying and monitoring capabilities to support long-term in-situ exploration and protection services of the coastal and deep ocean.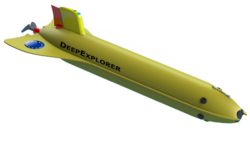 Bioglider-An Era-NET MarTERA project​
Observing and monitoring biological communities (from plankton to fish) is essential to unveil complex ecological processes and ultimately allow adequate marine environmental protection measures and a sustainable exploitation of the ocean.
It is of utmost importance to develop biological surveys, and gliders are very capable tools for this, in conjunction with other platforms.
Bioglider aims at integrating an underwater vision profiler (UVP) that takes high resolution pictures of underwater life, coupled with an echosounder to detect zooplankton, fish, and sea mammals among others. These two coupled observations, installed on a slow and non intrusive platform, offer great potential for biological surveys.